I have received this notification from Derek Bentley.

Sad to report of the passing of John Anstice-Brown, who raced a lightweight Olympic (amongst other things) quite extensively back in the 1960s. An article on the car was published in the January 16 1965 edition of The Motor.
The Olympic was always raced with the registration number AB 1, but this was a fictitious one as the actual registration AB 1 belonged, I understand to a Police Chief Constable!

( Registration number AB1 was gifted to the chief constable of Worcestershire)


After John sold the car it was road registered JJH 20G and survives to this day. For the last 20 years or so the car has been in the custody of Keith Hamer up in the Wirral.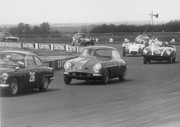 _________________
Rochdale Olympic History Archive